No matter what, if you've landed here to find the "BEST" DigitalOcean alternative that provides all the bells and whistles to launch your app/site on cloud environment then this is the perfect page for you.
We've tested dozens of hosting services regarding multiple factors like cloud stability, uptime, usability, and must-have features to help you pick the right cloud service.
This list is not a random pick, we thoroughly researched and analyzed each company that offers the best money-value services.
Digital Ocean is one of the most famous cloud hosting platform providing robust cloud infrastructure since 2011. It's much more popular among web developers than bloggers because of advanced features and development capabilities.
It was the first company that started offering virtual machines on SSD's back in 2013. In terms of web-facing computing, it's the 3rd largest hosting provider worldwide according to Wikipedia.
But, any product regardless of the fact how good it is, doesn't mean it can fulfill anyone's need which is why you're searching for an alternative to DigitalOcean, right?
With no further ado, let's start!
13 DigitalOcean Alternatives and Competitors for 2020
20GB SSD | 1 vCPU | 1GB Ram | Live Chat | 13 Data Centers | 1 Public IP at $4/mo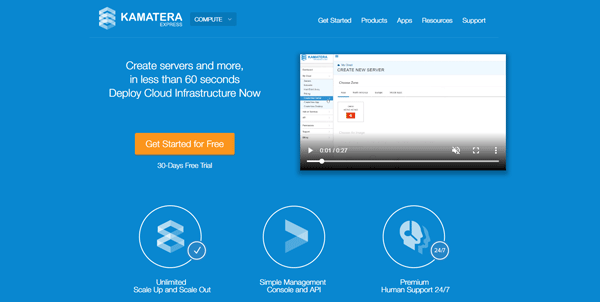 If you're looking for a cloud hosting just like DigitalOcean, which provides an intuitive control panel, on the go scalability, ultimate speed, and live customer support, then your search ends here. Kamatera has years of experience (around 20+) in managing IT-based services.
It was founded in 1995, the team behind create, modify, and customize everything on there own. That said, they assemble all cloud servers by in-house experts. Kamatera serves a variety of services, including virtual cloud servers, block storage, private cloud network, load balancer, firewall, and fully managed services – all of them are backed by the cloud platform.
In terms of pricing, we can say that Kamatera is a cheaper Digital Ocean alternative that offers an entry plan at $4/month with "Best-Money-Value" system specifications. The entry cloud plan comes with 1 vCPU, 1GB memory, and 20GB SSD storage, plus one public IP address.
Your virtual cloud machine can handle up to 200GB monthly data traffic and can be used for installing a bunch of Linux distros as well as other operating systems. However, different operating systems cost different; for example, a Windows cloud plan costs higher compared to Linux.
Apart from pre-made plans, you can also customize your machine according to the required processing power or project needs. You can choose from 9 different packages where the basic one starts from $4/month and pay bills either on an hourly or monthly basis. For a test drive, the company is generous enough to offer a 30-day free trial.
Plesk, cPanel, cloud Firewall, and other services are add-ones, you will need to sign up for those additionally. Being one of the robust yet reliable IaaS cloud platforms, they deliver lightning-fast performance through Intel Platinum 8270 processors (300% faster than predecessors), 99.9% uptime, up to 400Gbit bandwidth, and solid state drives for fastest possible read/write speeds.
The most prominent thing is they have more than 13 data centers located in 4 continents, ensuring unbeatable performance across the world. Besides Windows and Linux OS, there are additional 100+ OS images available to install, with just a few mouse clicks, thanks to the modern control panel.
Kamatera's cheaper plan is good for individuals, learners, small projects, blogs, and beginners. For enterprises and large projects, they provide servers backed by up to 72 vCPUs, 384 GB Ram, 40 Gbit per second networking speed, and 300% faster processing.
Regarding customer support, it has another edge over DigitalOcean and that's "Live Chat" along with other support channels. You can contact them via chat, email, and phone though we found them a little bit slower on live chat.
20GB SSD | 1 CPU | 512MB Ram at $2.50/mo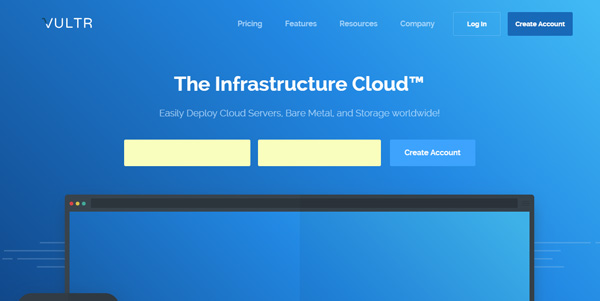 Vultr, without any doubt, stands on the top spot that provides all the bells and whistles to launch and run your cloud server smoothly. The company has low and high-end cloud plans packed with all of your needs no matter if you're a developer, programmer, or blogger.
That said, tech-savvy developers can deploy the required working environments and OS within no time whereas bloggers can install the most popular CMS "WordPress" to create a blog.
Just like DigitalOcean, they also have one-click installers to launch the needed operating system ranging from Ubuntu, Debian, OpenDB, Docker, LEMP, LAMO, CentOS, to CoreOS, well known CMS including Joomla, Magento, Prestashop, WordPress, and Drupal, etc.
The intuitive central panel designed with keeping in mind newbies so novice and experienced users can manage their cloud instances efficiently. It has friendly and straightforward navigation providing high usability to get the job done for maximum productivity.
Talking about the network coverage, Vultr has 15 locations around the world where multiple data centers are strategically located to render the fastest speeds, lowest latency, and better user experience. These distributed data centers play a vital role to balance the server load hence ensure unbeatable performance with 99.99% uptime.
The entire platform backed by state-of-the-art infrastructure, latest hardware, solid security encryption, and updated software patches. So, you get secure cloud hosting with total peace of mind.
You can avail cloud compute, Bare metal, block storage, and dedicated cloud plans. All accounts include SSD's, easy scalability, 100% SLA, elegant API, custom ISO, full root access, and much more at affordable prices making Vultr a cheap DigitalOcean alternative.
Any operating system can be launched with the help of 1-click installer, and it takes a few seconds to set up your instance. Another feature that should be mentioned here is hourly and monthly subscriptions. You can contact the customer support through tickets, and they will respond quickly to fix your issues ASAP.
A2Hosting – Excellent Digital Ocean Alternative for Bloggers
20GB SSD | 1 CPU | 512MB Ram at $5/mo
A2Hosting provides web hosting solutions for all users ranging from shared to VPS, dedicated to cloud, reseller to email, managed WordPress to Linux hosting at affordable prices.
It was founded back in 2001 by Bryan Muthig with the name "Iniquinet" and then renamed to A2Hosting. They have own data centers located around the globe to offer screaming fast web hosting, scalable solutions, and guru technical support in multiple ways.
Virtual servers come with essential developer features such as different PHP, MySQL, Python, ASP.NET, and PostgreSQL versions alongside 300% faster solid state drives for quick apps/web pages rendering.
The basic cloud package starts at just $5/month featured with 20GB SSD storage, 1 Core CPU, 512MB Ram, 2TB data transfer, and full root access. Each plan support anytime money back guarantee where 30-day full refund and after that pro-rated return will be allowed.
Similar to DigitalOcean, A2Hosting keep their data centers updated regarding latest software updates, security patches, and advanced hardware and optimize all machines for above industry standard 99.9% uptime. This also helps them ensure ultra-reliability and low latency regardless of the location where you are. Turbo Servers are also available for 20x more speed to load your apps and websites quickly than ever.
For a custom server, you can configure virtual instance by selecting required Disk space, CPU, Ram, and Bandwidth. At the time of configuration or signup, you can choose from 20+ OS options, 4 data center positions, Turbo server feature, Webuzo, and cPanel. However, cPanel license will cost extra charges.
We highly recommend A2Hosting for webmasters, bloggers, and website owners to get outstanding services. 24/7/365 client support can be reached out anytime via chat, phone, and tickets, etc.
80GB SSD | 1 CPU | 512MB Ram | 100GB Block Storage at $4.50/mo
Do you prefer to host your applications and domains with a company having more than two decades of industry experience? If so, then here is DreamHost which is serving the customers since 1997.
They have thousands of happy customers (400k+) from more than 100 countries and maintaining more than 1.5 million websites under their management. With over 750k+ total WordPress installs so far, bloggers, app designers, developers, small business, and programmers trust DreamHost for reliable hosting.
They have an award-winning technical support team available 24/7/365 via live chat, email, and social media to resolve your problems as soon as you get in touch. It's not only cheaper than DigitalOcean but also better, as you can see live chat is one of the main perks with DreamHost where the competitor lacks it. When we compared the prices of primary plans of both hosts, DO is a bit expensive and provide limited space and no free block storage.
DreamHost includes a whopping 80GB SSD disk storage, free bandwidth, and free 100GB block storage at the price of just $4.50/month or $0.0075/hr though you get 512MB Ram.
All cloud servers include full root access and unmanaged servers are compatible with Linux, BSD, MS Windows, Linux Distros, and custom templates. So, you can select any OS, deploy virtual machine, and start working under 30 seconds. Scaling up resources is dead simple, thanks to OpenStack API that support automatic scalability through command-line tools.
To meet developers' needs, you can operate a broad range of applications like OpenStack, Ceph, Python, Redis, MongoDB, Node.js, and Ruby, etc. Everything is open source; however, you can choose private cloud to migrate your workload to a private environment.
DreamHost named their cloud services as "DreamCompute" and "DreamObjects". Currently, there are three packages available, and all of them support 30-days money back guarantee. Beyond that, they also provide shared, VPS, and dedicated hosting as well as domain name registration with free WHOIS privacy.
50GB | 1 CPU | 1GB Ram at $4.25/mo (No fixed plan but lowest specs costs)
If pricing is the primary factor that is why you are looking for cloud services similar to DigitalOcean, then CloudSigma is an ideal place for you. They offer well-balanced cloud solutions with the best price/performance ratio compared to other providers.
One of the significant features that makes them a reliable alternative to DigitalOcean is transparent billing system which works on "pay-as-you-go" criteria. Instead of pre-made plans, you can build custom plan and add required resources to deploy your instance.
Cloud storage means ultimate performance and to bring superior speed, CloudSigma has built custom KVM cloud to allow full control over servers, dedicated performance, robust resource allocation, and protection against malware.
Their platform is compliant with ISO 270001 standards to assure better data protection and security. Developers and programmers can make use of API access to maintain their virtual machine which is packed with all the advanced features.
When compared to Vultr, DO, and Linode, CloudSigma do offer instant provisioning which means deploying a virtual instance takes a few seconds – no need to wait for hours. You can create a private network, get IPs, and cloud drives with zero delays.
The entire cloud network is backed by redundant 10GigE networking to avoid bottlenecks while streaming videos or large data files. Need high resources? No problem. With CloudSigma, you can choose up to 128GB Ram, 40 CPU Cores, 5TB SSD storage, and 100TB monthly bandwidth on traditional drives(magnetic).
Keep in mind, when you opt-in a package that costs up to $10/month or more, you'll receive free resources such as 1GB Ram, 50GB SSD space, and 5TB free bandwidth. Is not it a perfect Digital Ocean alternative? They have 10+ cloud locations having various data centers optimized for 100% guaranteed SLA.
Individuals and businesses planning to run SaaS, IaaS, PaaS, or massive data processing, can choose CloudSigma for economical solutions. Their hybrid infrastructure is a combination of dedicated, public, hybrid, and secure options to deliver impeccable services.
Besides above features, you can easily integrate with OpenStack Heat plugin, Apache Libcloud Driver, Ansible, fog.io library, CoreOS, and much more including external integrations. You get outstanding services comes with more feature then the money you pay.
Also, 50x account credits if you face more than 15 minutes downtime also included. Where the competition lacks live chat, they do offer 24/7 round the clock customer support via chat and email. You can start right away with no credit card credentials and create your instance under 30 seconds – it's a win-win.
40GB SSD | 2 CPU Cores | 2GB Ram at $40/mo
Host1Plus started its journey in 2008 by establishing two data centers in London, UK, and Vilnius, LT. After that, the company had have launched various data centers in different locations across the world including Amsterdam, Singapore, Frankfurt, Santiago, Johannesburg, Sao Paulo, and others.
Currently, they have many server spots to choose from. However, their cloud service is a bit new as they launched cloud hosting in 2017. You can get managed and unmanaged cloud based hosting empowered by cutting-edge hardware and technology.
They are utilizing KVM virtualization technology alongside elegant yet powerful API to allow remote access, unbeatable performance, robust security, and better reliability. You can use API to take benefits from advanced networking features to enhance your apps functionalities or integrate as per your necessities.
Upgrading system resource is as simple as signing up a Gmail account, right from the client area, users can upgrade resources easily. Auto backups, DNS management, Rescue mode, rDNS control, Pre-installed templates, SSH access, VNC console, IPv4, and IPv6 also included.
Not found a suitable OS? No problem – the availability of custom ISO images allows mounting your desired ISO. Real-time stats helps to monitor resource usage on the go to track CPU, Ram, and data transfer hence prevents against over usage.
You can even assign various IPv4 addresses to your instance. For redundant connectivity, each Host1Plus data center (4 cloud regions) connected with a 10G fiber optic network to ensure the fastest possible speed. Furthermore, a dedicated IP address is also given for all users at no cost.
Experienced and advanced developers prefer to have ultimate control on their servers, must go for Host1Plus though their packages are a bit expensive than DigitalOcean. The basic plan costs a hefty $40/month which feels overpriced and it's true to some extent as many other providers offer similar recourses at cheaper rates.
The surprising thing is at this price tag you only get 40GB space, 2 CPU Cores, 2GB Ram, and 1TB bandwidth with CentOS, Debian, Fedora, and Ubuntu support. cPanel also can be installed at $15/month extra fee.
P.S: If money doesn't matter then must try.
CloudWays – Managed Cloud with Expert Support
25GB SSD | 1 CPU | 1GB Ram at $10/mo
When using cloud hosting having any time instant technical support is essential and that's the major disadvantage with DigitalOcean, right? CloudWays is a managed cloud solution provider where you get round the clock live chat and ticketing support.
They also have an in-depth knowledge base zone where users can find helpful tutorials and guides for self-help. CloudWays doesn't have own data centers, instead they are collaborating with top cloud companies include Google, Amazon AWS, DO, Linode, Vultr, and Kyup.
They just made it is simple to take benefits from complex cloud infrastructures to deploy your server with 1-click installers. For instance; AWS is very complicated and demand advanced technical skills, but it's way simpler with CloudWays.
You can select any host and pick the most suitable plan that fits your production environment or website need and start absolutely free(trial) without adding credit card details. Each package comes with free SSL certificates, unlimited app installations, free data migration, and guru support.
The company has a whopping 60+ global locations all around the world backed with enterprise-level hardware and auto-healing system to deliver seamless performance. With over 15+ monitoring metrics, they make sure to provide maximum uptime.
The backend expert team implemented built-in cache mechanism, PHP 7.xx, and PHP-FPM feature which resulting in screaming fast speed worldwide. All of these features don't cost a single extra penny.
They regularly update security patches, embrace the latest security practices, and use a server-level firewall to keep your data safe, secure, and protected. When you launch your instance with them, a dedicated environment for robust isolation shields it which means you get full resources.
Plus, one-click SSL installer makes it dead simple to assign SSL protocol with zero technical knowledge. On top of that, HTTP2 compatibility plays a vital rule to decrease the SSL certificate handshake between the servers and clients. There is much more to check, so visit CloudWays here for more details.
20GB SSD | 1 CPU | 1GB Ram at $10.05/mo
Togglebox is serving the customers ranging from individual users to enterprises for a while to setup virtual cloud servers having 1GB to 128GB Ram.
It's the right place to buy high-end servers containing 32 Core CPUs, 100TB bandwidth, and 128GB Ram with 500GB SSD based space so you can process large projects as well as big data without getting out of resources anytime sooner.
They also deal with Add-ons such as cPanel/WHM licenses, CloudLinux, SSL certificates, Domain registration, and SQL web edition.
It is the top DigitalOcean alternative because of providing everything which one can get from the competition but something more like domain services, CDN, and Wildcard SSL, etc. The very first package costs twice than DO but you will be served with live technical assistance.
Instant provisioning, SSD San Storage, redundant resources supply, free migration assistance, DNS hosting, and VM cloning to create similar servers are some of the major perks.
With the help of VM cloning feature, you can quickly launch the duplicate server on a new platform or hosting environment which results in saving a lot of time.
Just like DigitalOcean's load balancer, they do have the same feature using which you can distribute the workload to enhance uptime and throttling. It comes handy throughout sudden traffic spikes and works automatically. It is compatible with any protocol, security certificates, advanced queueing techniques, and ACLs, etc.
KVM virtualization is being used to separate each cloud's resources for maximum performance and stability. It's the widely used technology in the cloud industry to isolate server configurations hence improve overall efficiency.
Talking about the control panel, Togglebox has a precise central panel where scaling things like Ram, Storage, and CPU cores don't take more than a few clicks. Need more power, increase processing cores or require high memory, just add more Ram – that's simple yet convenient.
Along with anytime support services through live chat and email, you also get 7-day money back guarantee.
Linode – Cheap DigitalOcean Alternative
25GB SSD | 1 CPU | 1GB Ram at $5/mo
Speed is the major concern that's why no matter, if you're a professional blogger or programmer either coder, decide to go for a cloud hosting, right? And to achieve astonishing processing speed, Linode relies on branded Intel E5 processors family to deliver fastest possible rendering. The combination of Intel CPUs along with solid state drives for data storage makes it possible to load your apps/pages in a matter of seconds.
You might know that SSD's are 20x better than HDD's in term of I/O, so you always get lightning fast performance. Deploying a virtual machine takes a few seconds, all you've to do is select desired Linux distro, system resource like Ram, processor, webspace, node location, etc. and you're good to go.
All of this can be done right from the manager panel. Their cloud infrastructure consists of dozens of nodes, so to ensure ultimate uptime. For network connectivity, each data center is using 40Gbit network connectivity providing redundant power.
There are total 3 regions and 9 data centers; you can test each center's performance by downloading a 100MB file. During the downloading, you can easily decide which region will best suit your needs and helps you pick the closest location near to your audience.
Remember, you should prefer to have the nearest server for optimal stability and lowest latency. After the launch, you can monitor your virtual machine from the Linode Manager or use CLI command lines to maintain it, depends on you.
Linode supports various popular distros including CentOS, Fedora, Debian, Ubuntu, Arch, OpenSUSE, Slackware, and Gentoo, etc. or even you can use a custom one.
Easy scalability, cloning, DNS management, Rescue mode, and IPv6 compatibility are other perks included for all packages. They also have Block storage, NodeBalancers, Snap Backups, and DNS tool add-on making them a perfect DigitalOcean competitor. To sum it all, except the live chat, you get everything from them.
25GB SSD | 1 CPU | 1GB Ram at $6/mo
Looking for an affordable service alongside a 24/7 live chat facility? InterServer offers similar features just like DigitalOcean at $6/month, but you get instant chat support so paying an extra $1 worth it.
It's an independent company operating since 1997, founded around 19 years ago and serving almost all kinds of web hosting. They have own data centers, expert technical team, and high speed Ethernet connection which results in peace of mind solutions.
Let's discuss their cloud VPS services, at six dollars per month; you get 1 core, 1GB Ram, 25GB SSD volume, and giant 1TB monthly bandwidth. It includes 100+ apps and different operating system choices to deploy a suitable working environment.
Currently, Debian 7, Ubuntu 14.04, CentOS 7, Windows 2008, Windows 2012 R2, Suse, Fedora, OpenSuse, Windows 2016, Funtoo, CERN Linux, OpenWall, etc. are in their arsenal. There are 3 locations (at the time of writing); Los Angeles, Secaucus, and Secaucus EastCoast.
Need extra IP address or cPanel license? Worry not, it costs a couple of dollars per month to avail additional IP ($3/mo), cPanel ($10/mo), Softaculous script ($2/mo), and Direct admin ($8/mo) making them an economical alternative to DigitalOcean.
Keep in mind, most companies charge 15 bucks for cPanel license, but InterServer has cheaper rates. The latest developer features such as Perl, Python, PHP, MySQL, and Ruby versions are pre-installed. Full root access is given to utilize your server and install any software.
An intuitive control panel allows instant provisioning, resource adding/removing, taking backups and snapshots, and handling multiple virtual instances. It's a web-based control panel that's not only user friendly but also easy to navigate.
They guarantee to deliver 99.9% uptime, otherwise, return your money. Are you a blogger? If so, you can install WordPress, Drupal, Joomla, and Magento, etc. as well. Furthermore, the 30-day refund policy is in place to protect your investment.
BlueHost Cloud – Good for Bloggers and Webmasters
100GB | 1 CPU | 2GB Ram at $6.95/mo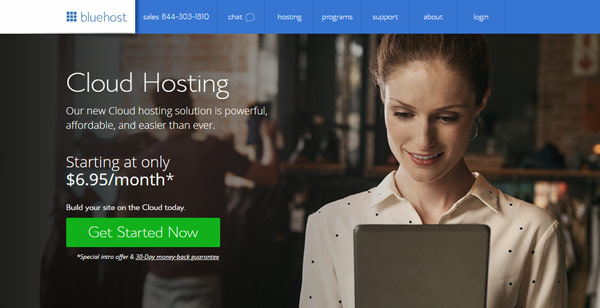 Stands in the list of top 20 largest web hosting services in the world, BlueHost is one of the officially recommended hosts by WordPress.org. They offer all kinds of hosting solutions and domain registration.
Currently, handling more than 2 million websites worldwide, BlueHost is an excellent shared hosting provider especially for beginners and novice bloggers to setup a WordPress blog. You can get "Cloud Sites" storage to host your domains on powerful infrastructure.
Each cloud package comes with 30 days money back and 24/7 customer assistance by means of chat, phone, and email. There is also an extensive knowledge base where users can learn technical stuff and DIY guides. The very basic "Starter" featured with 1 site, 100GB web space, 2GB Ram, 2 CPUs, 1 free domain name, and 500MB email storage.
You can create up to 100 email accounts for sending and receiving emails through the branded address. Moreover, free $50~$200 marketing credits also included to advertise your newly built website on search engines.
Google gives a minor ranking boost to blogs using HTTPS or SSL certificate, and for that, BlueHost provides free SSL certificates by Let's Encrypt. It takes only a few clicks to activate it. Compared to DigitalOcean, they have optimized the entire cloud architecture to render the best possible speed and loads your web pages under 151ms.
Each accounts' data automatically mirror to three devices on a regular basis to avoid data loss in case of any incidence. Proper cache mechanism not only fetches your site's content fastly but also helps high ranking in SERP, thanks to automatic NGINX and Varnish caching system.
Just like Digital Ocean, you can monitor and enhance resources on the go with a simple yet powerful dashboard. It yields tracking regarding uptime, global traffic, usage trends, and page speed. When your traffic increases, head over to the central controlling panel and increase the desired memory or disk with a few mouse clicks.
No need of migration or data transfer nor reboot will be required to do that. Overall, If you're managing a WordPress blog and planning to move to cloud hosting, then BlueHost is the right place.
40GB SSD | 1 CPU | 1GB Ram at $8/mo
Atlantic.net was started back in 1994 and now known as the leading hosting service where one can order block storage, cloud servers, IaaS hosting, dedicated nodes, managed servers, and private cloud, etc.
They have world-class data centers made with cutting-edge hardware located in New York, San Francisco, Dallas, Toronto, London, and Orlando.
Atlantic.net was also awarded as one of the fastest 500 growing companies in 2003 by Inc. magazine. Furthermore, many other magazines also featured them due to outstanding progress and performance.
They have 8 data centers located around the world as mentioned above which are capable of handling carriers, CLECs, ISPs data, heavy bandwidth consuming projects, eCommerce solutions, and development environment.
You can opt-in any package depending on usage nature, for instance; General Purpose, Storage Optimized, Memory Optimized, Compute Optimized are available for particular operations.
Their cloud servers are designed to run Linux, Windows, and FreeBSD operating system so you can mount the required one accordingly.
So what makes them an excellent DigitalOcean competitor? Well, there are many things. First of all, they do have live chat support using which you can ask questions or contact them for solutions. On the other hand, email and call support by the expert team also included. Their staff has decades of experience and capability to resolve any problem within in no time. When needed, head over to any contacting channel and they will take care the rest.
You can guess the popularity of Atlantic.net by knowing the fact that many giant brands trust them such as Samsung, Newegg, Puma, NASA, Lenovo, KIA, and Viacom, etc. They achieved this by delivering robust services, 100% SLA, RAID-10 storage, and by partnering with big internet companies like CloudFlare, Redhat, VMware, Cisco, Microsoft, and TrendMicro.
For dedicated resources, Hybrid, Private, and Dedicated hosting also available. The very basic G2.1GB cloud plan costs $10/mo for Linux OS and $15/mo for Windows OS on monthly based subscription. You can save significant money when buying annual subscriptions.
20GB SSD | 1 CPU | 512MB Ram at $3.50/mo
You might know Amazon Web Services or AWS if dealing with cloud hosting for a while; it's one of the most powerful yet complex cloud infrastructure built to handle massive projects and address enterprises' needs.
Numerous web hosting providers such as WPEngine and CloudWays partnered with AWS and optimized it according to their business landscape. Lightsail is an Amazon product aiming to target a specific audience to help them deploy CMS and production environments using a variety of operating systems.
Lightsail is a combination of cutting-edge features and advanced technologies including flexible API, Snapshots, Load balancer, ultra-high storage availability, ultimate speed, AWS integration, and much more at the starting price of just $3.50/month.
For optimal security, static IP, SSH terminal, RDP access, and firewall encryption are given at no extra fees. Beyond that, DNS management, instance monitoring, and secure keys also included in all plans. The best part is you start right away without paying a single dime because they concede one month free trial.
AWS has a vast network of cloud instances and so the Lightsail. It has a wide range of 37 positions and 13 global spots to minimize ping speed hence deliver low latency across the world. On top of that, you can expand storage by paying $0.10/GB and assign it (block storage) to your virtual machine.
Snapshots feature by Amazon Lightsail costs an extra $0.50/month which is reasonable. You can take complete backups of your data, clone servers, or launch a duplicate instance with it with a few clicks.
Despite the fact who you are, webmaster or developer, Lightsail got covered you by providing all popular CMS, Stack, and Linux distros. You can set up WordPress, Joomla, or Drupal blog as well as create an online store with Magento.
Famous OS such as Ubuntu, Debian, FreeBSD, OpenSUSE, Windows server, and Amazon Linux along with Stacks like Node.js, GitLab, MEAN, Nginx, and LAMP adds unlimited possibilities. In a nutshell, there are dozens of benefits to manage your apps.
25GB NVMe | 1 CPU (both x86/x64)| 1GB Ram at €1.99/mo
Last but not least Scaleway is another Digital Ocean alternative that provides virtual cloud on solid state drives, they offer various services ranging from virtual machines to BareMetal Servers, Kubernetes to Image Hub featured servers.
When it comes to supported Linux distros and applications, there are dozens of apps and popular Linux OS (Ubuntu, OpenSuse, Fedora, CentOS, Debian, etc.) that can be installed instantly in seconds. Concerning the applications, you get access to GitLab, WordPress, Drupal, Redis, Minecraft, Prestashop, OpenVPN, Docker, Redmine, and many more.
In fact, there are plenty of options.
Launching a high-end cloud machine having up to 128GB Ram and 64 processor cores is dead simple, thanks to fast provisioning under 44 seconds. With the help of robust API, you can automate different functionalities for smooth operations.
It also plays a vital role to destroy, upgrade, and maintain your virtual machines remotely. Furthermore, x86 and x64 processor architecture as well as ARMv8 also available.
They use KVM hypervisor for each instance isolation to make sure that every user gets better performance and bulletproof security. KVM is one of the best and widely used technology to isolate servers for dedicated resource allocation.
Along with that, Snapshot feature can be used to take backups of your data. You can use these snapshots for cloning or recovering data. On top of that, flexible scalability allows adding additional resources including IPs, storage, and infrastructure merging.
Scaleway has divided virtual cloud hosting in 3 zones; Start, Pro, and Arm where Start is the very basic zone come with 4 different packages. The 1-XS costs just €1.99/mo packed with 1 Core CPU, 1GB Ram, 25GB Disk (NVMe) and 100MB/s bandwidth.
You can choose either x86 or x64 architecture as there is no limitation. The pricing structure is very competitive so we can say they are good yet cheaper than DigitalOcean. For technical help, you can send tickets, email, phone call, and gets a dedicated manager – it varies on the nature of your subscription.
Conclusion – Which is the Best Alternative to DigitalOcean for Me?
We thoroughly discussed all the best possible alternatives that can be used to enjoy reliable, fast, and stable services. The above mentioned companies offer different features and cloud capabilities at different prices. And it solely depends on you to choose the right alternative that fits your work of nature, project requirement, or website needs in case if you're a blogger.
Your preferences as a blogger can be varied than a developer, so to address which host should you choose, here is a quick overview.
Developers, Programmers, and Coders: Kamatera and  Vultr are the cheapest Digital Ocean alternative that has almost all features provided by DO so that you can pick it without any hesitation. Their support team is incredible, the control panel is convenient, and it takes a few mouse clicks to deploy the desired instance.
Moreover, the availability of Bare Metal servers and storage solutions make it the perfect place for high-end and tech-savvy users. It allows all Linux distros along with custom ISO mounting and 99.9% uptime guarantee.
High End and Big Data Projects: Are you an enterprise or business that process big data? In that case, you should go with Kamatera or Atlantic.net, both of them have enterprise-level solutions backed with rip-roaring servers to manage anything smoothly no matter how large your files are. Before paying for long term contracts, we recommend you must give a try (they offer 30 days free trial as well) and then make a wise decision.
Professional Bloggers and Webmasters: A2Hosting is one of the hosts we are using for our websites for a while, and so far, we can't resist our self to recommend them. The company has Turbo servers for 20x better performance, hundreds of 1-click app installer, built-in cache mechanisms, and SSD storage.
Apart from cutting-edge hosting services, their anytime money back guarantee is another noteworthy feature. Plus, 24/7/365 client assistance via chat, email, and phone adds further value to your money.
We hope our quick suggestions will help you decide which DigitalOcean alternative has the potential to fulfill your necessities. If you think we've missed any good competitor that should be listed here then don't hesitate to mention it, we'll update this list to deliver more value. Plus, any feedback(s) is most welcomed.